Looking for the best qigong app? Look no further because you have discovered a jewel. Let's look at why this qigong app stands out from the competition.
You may have found many qigong videos on YouTube and other social media. Maybe you have started learning qigong with some YouTuber teachers. That's fine. Lots of people want to test the water before they become serious.
We're glad that you found us. If you want to learn real qi gong, not qigong dance or relaxation, which 98% of the YouTube videos are, and to get real results, you need to follow the right qigong master. Pick the one who knows everything behind the scenes and has a complete system to carve you.
What's unique about Onenergy Qigong App
Onenergy qigong App is not just another app to teach you some random qigong movements. It embeds a proven system that includes the following seven unique features:
1. Progressive qigong learning
Unlike any other qi gong program, the Onenergy program is a complete qigong system that works to progress for anyone, regardless of age or experience.
Instead of teaching some qigong forms and methods right away, our programs progress you from the preparatory courses to the fundamental courses, then the advanced programs.
Everyone will start with our preparatory courses, which will prepare both your body and mind for our advanced qigong practice once you level up.
2. Guided and group practices
After completing each lesson, you will be prompted to the corresponding practice. You can choose to follow our guided practice multiple times a day. And you can join our online group practice sessions available 24/7 daily, including the statutory holidays.
Qigong practice is as vital as qigong learning. Most people exercise maybe once or a few times a week. Since they haven't practiced every day for a long enough period, they could hardly experience qi, let alone see some serious results. Our qigong app is designed to help you be persistent in practicing.
3. Track your learning and practice progress
The Onenergy qigong App creates a unique and outstanding tracking system to track your everyday learning and practice progress. For example, unfinished lessons, total practice time for the day, week, and month, total group practice time, total customized routine time, total exercise time for each body part, etc. So that you will have a clear picture of how much effort you have put in and which part you need to work on the most.
4. Customize your practice routines
This is a highlighted feature of the Onenergy App. No other qi gong yoga or fitness app has that function yet. Our customized practice feature allows you to create and customize your routines to address your personal health needs. This is innovative. It's like you have a personal qigong coach who guides you daily.  
5. Set your practice reminders
Our qigong App will send once-a-day practice reminders. App users can even set up their reminders once they become Onenergy members.
6. Tasks and challenges
To experience results, you need to get out of your comfort zone and progress. The Onenergy system in the App will assign you different tasks and challenges to help you progress and grow.
7. Improve your health, wealth, relationship, and more
We believe that Qigong is not just for your health; it can help every aspect of life. Therefore, we also have a unique wealth program, a spiritual awakening program, and more in the App. Those particular programs will open your eyes and minds to all kinds of possibilities that qigong can benefit you.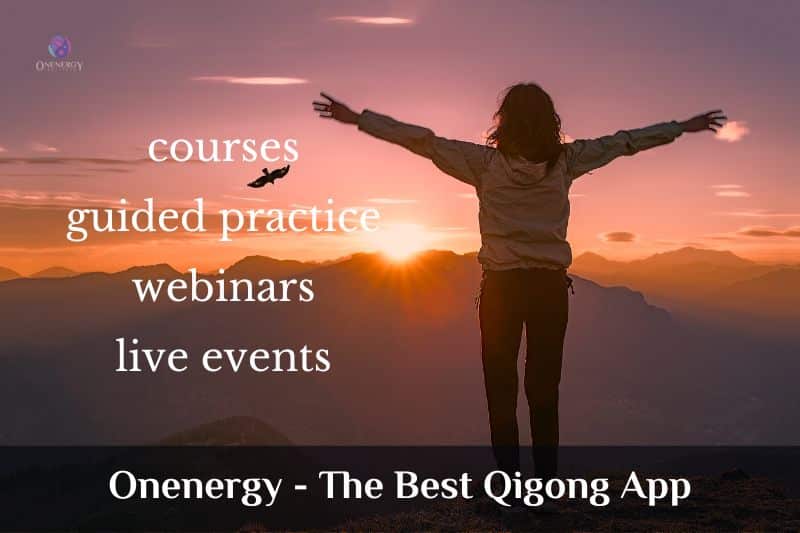 Besides those unique features, you will also find practice tips, food and diet tips, webinars, and live events in the App. We provide that up-to-date advice and information based on our 50+ years of experience. They are great for supplementing your daily learning and practice. You will experience a better way of managing your health with Onenergy qigong!
If you are new to qigong, you can visit our qigong for beginners guide.
After one year of development, the Onenergy qigong and meditation App is officially launched in both Apple App Store and Google Play Store. You will find more information about the Onenergy qigong App (watch App fun demo) and download links at onenergy.institute.